comad September 4th, 2014
digitized by Google : photos forgottenbooks.com
Badminton Magazine of Sports and Pastimes
volume 21 1905
page 556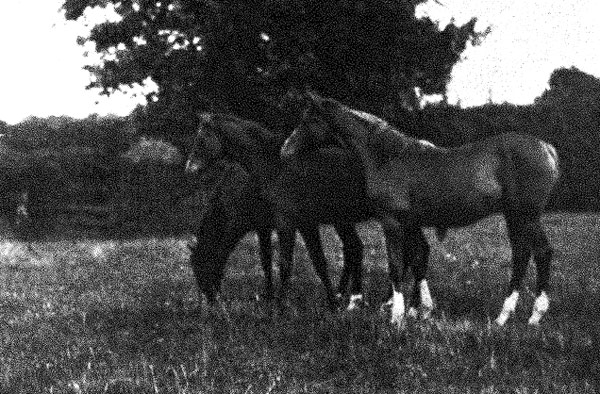 ch. filly* GALLINULE – ADMIRATION.
ch. filly by WILDFLOWER – MAY RACE.
br. filly by LAVENO – CHINOOK
THE EYREFIELD LODGE STUD 1905
by Lilian E. Bland
"Yes" said Dan, in reply to a remark of mine on luck in general and horse-breeding in particular , "there's some dacent people has hould of the divil by the tail, and faith, if they was to leave go, he would turn round and ate them ; and others has the best of luck all the time"
Certainly Major Eustace Loder [1] has been very fortunate since he came over to Ireland and bought the Eyrefield [2] farm from the late Henry Eyre Linde [3] , eight years ago. Since then, of course, great improvements have been made, more land purchased, and the farm now consists of 300 acres of old pasture, divided up into different-sized paddocks, which surround the house on all sides .
The 'Lodge' is a most charming bungalow. On one side a lawn has been made, and beyond this the garden, bright with flowers and arches of roses, slopes down to the lower fields. Major Loder takes a great interest in all gardening matters, and even the walls of 'Laveno's' [4] house and yard are gay with the scarlet leaves of the small Virginian creeper ; from the veranda one looks across a fine stretch of country and on to the lower farm which, being in a more sheltered position, is used for the foals in winter. Here there are six paddocks, each with a good shed, but in all the fields the splendid hedges afford excellent shelter from every wind that blows. A guard rail runs round each paddock so that the horses and cattle cannot destroy the fences.
Major Loder had only just arrived from England, and while he was having a late breakfast Dan, the stud groom and general factotum, took charge of me and the camera, and we began a most interesting round of inspection. The hunting establishment forms a square joining the back of the house, and the boxes were well filled with a good type of Irish weight-carrier ; but on this occasion no 'hunting talk' was allowed, and we passed on to the range of stables used for the horses in training. Here along the length of the boxes runs a covered-in passage-way, so that the horses can be inspected with no fear of draughts from the open doors of their boxes, and all the stables are lit by electricity.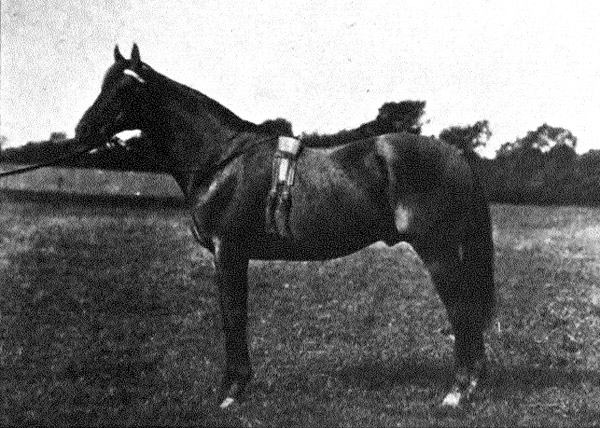 LAVERNO by BEND OR – NAPOLI
To the right of these again is another yard , round which are the brood-mare boxes, at present inhabited by the yearlings just taken off grass ; through this yard one comes to various out-houses, the forge, the electric plant, hay sheds, etc., and to 'Laveno's' palatial residence ; the buildings really form a compact square close to the bungalow. 'Laveno' was being lounged near the house. He is a dark bay standing sixteen hands, [5] sire of many well-known winners ; amongst others 'Uninsured', 'Lively Lad', 'Nutwith', etc. He is a lazy horse, and looked fearfully bored when I wanted to photograph him ; but Dan, after violent exertions of hat rattling and yelling, finally succeeded in attracting his attention.
Then we walked on to the other paddocks, stretching over a fine undulating country, with the Wicklow hills away in the distance, and a fresh breeze blowing across from the Curragh [6] ; the grass, as Dan remarked, 'had a pelt; on it as spongy as a drawing-room carpet.' The fields get a good top-dressing of farmyard manure , and the cattle feed them down but the Emerald Isle may well earn its name from these pastures of Kildare. Dan is absolutely devoted to his 'children,' and is a wonderful nurse. The weakest foals thrive under his good management. One of the colts got badly kicked on the head, and in Dan's language was in danger of 'jaw lock,' [7] but it was wrapped up in blanket and nursed before the harness-room fire, recovering speedily.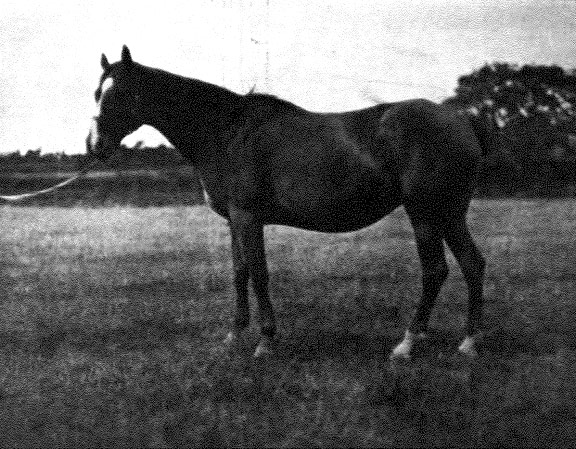 ADMIRATION by SARABAND – GAZE
All the mares and foals have charming manners; some of them tried to take the photographs, while the foals were most interested in my hat, and wanted to know if it was good to eat.
Mr. Johnson then joined us as we were going to the brood mare paddock, having returned from superintending a gallop on the Curragh, and I was introduced to a distinguished assembly of matrons. Of course my first question was 'Which is Admiration?'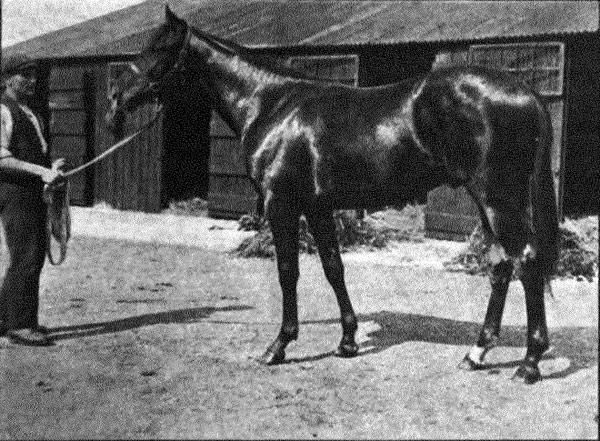 ch. colt by LAVENO – GALLINARIA
Naturally her reputation rests on 'Pretty Polly' , [8] though as a matter of fact she bred two winners before this in 'Aderno' and 'Veneration II'., who won a few races between them. 'Aderno', as a three-year-old, only ran four times ; in his first race he was second to 'St. Brendan', won the two subsequent races, and broke his back in in unaccountable manner in the fourth.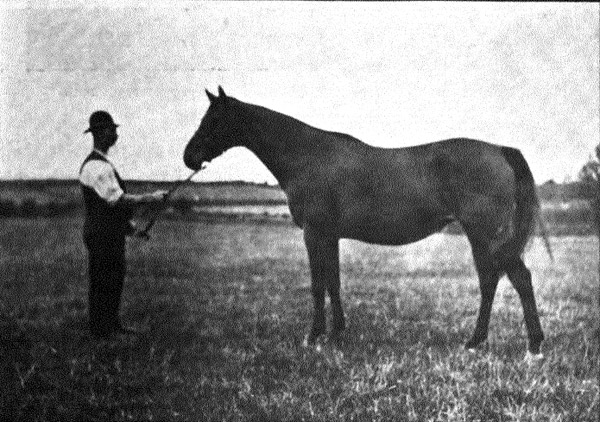 SIBOLA by THE SAILOR PRINCE – SALUDA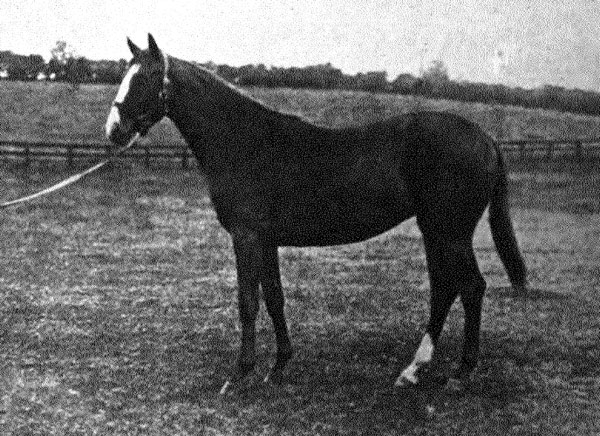 ch. filly by GALLINULE – ADMIRATION, OWN SISTER TO PRETTY POLLY
After 'Pretty Polly', the mare, as everyone knows, bred 'Adula' and 'Admirable Crichton'. 'Admiration' is a rather dark chestnut, and to those who have seen 'Pretty Polly' I can best describe her as bearing a strong resemblance to her brilliant daughter, only the latter is, as Major Loder says, built on more massive lines. 'Astrology' is one of the few 'Hermit' mares still at the stud, and a wonderful success she has been, breeding the winners 'Telescope', 'Star Chamber', etc. The old lady has seen nineteen summers, and her foal by 'Gallinule' bids fair to be the best she ever bred. Major Loder limits his stud to twelve mares, although, as he says, it is very hard to part with some of them ; yet by degrees he is getting the right sort of young home-bred mares, which will form the foundation of many future triumphs on the turf, and perhaps a list of these matrons will be of interest.
'Cat Bird', by 'Gallinule', is one of the home-bred young mares, and her foal by 'Laveno' promises well, being a fine, strong filly with enough bone and substance to make a Grand National winner.
'Gallinaria', home-bred, also by 'Gallinule' out of 'Pierina', is a great favourite with her owner. She won him his first Irish Derby. Her foal by 'Isinglass', an all-bay with an exceptionally strong back has more size than most of his stock, although the breeding of this youngster is a somewhat bold experiment, seeing that 'Gallinule' and 'Isinglass' are both by 'Isonomy'.
'Chinook', a beautiful-shaped rich brown mare, winner of the Nassau Stakes, is by 'Sensation' out of 'Breeze'. As her breeding suggests, she is an American importation, acquired from the late Lord W. Beresford, and, judging from her stock, promises to make one of the most valuable matrons at the stud.
'Lutetia', by 'Pontiac' – 'Luella B'., is another Yankee. She won five engagements as a two-year-old ; her filly foal by 'Gallinule' is a fine strapping youngster, and although a May foal, now nearly as forward as any in the paddocks.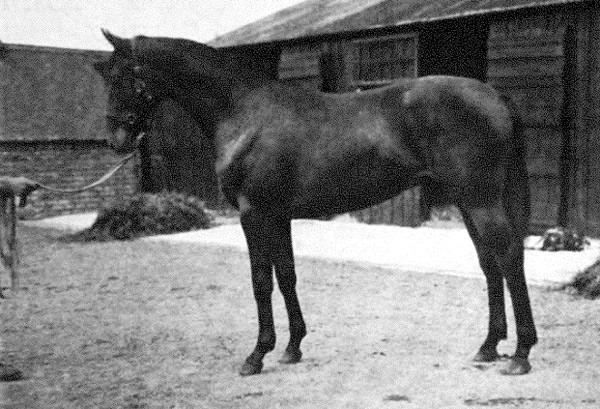 bay colt by ISINGLASS – SIBOLA
'May Race' (home-bred), by 'Melanion' out of 'Maibaum', helped to accomplish a lucky triple event for the Eyrefield establishment, winning the Irish Oaks the year when 'Gallinaria' won the Irish Derby and 'Ambush' won the Grand National for His Majesty.
'May Race' started her stud career successfully : her first foal was the good two-year-old winner 'Maggio', by 'Laveno' ; and judging by her 'Bushey Park' yearling, and capital 'Wildfowler' colt foal, she is likely to achieve success in the paddocks.
Major Loder purchased 'Sibola', by 'The Sailor Prince' – 'Saluda', for 2,000 guineas, at Lord William Beresford's sale at Newmarket. As everyone will remember, she was most unlucky not to add the Oaks to her One Thousand Guineas victory. Her foal by 'Gallinule' broke its leg and had to be destroyed.
'Soaraway', by 'Ayrshire' – 'Lady Muncaster', has a nice colt foal by 'Wolfs Crag', and will probably visit 'Flying Fox' next year .
'Springthorn', 'Startling', and 'Veneration II', complete the list of matrons, and it would be hard to find a nicer lot of mares. On our return from the paddocks we had the yearlings out ; these youngsters will soon be going over to join the Clarehaven string under Mr. Gilpin, [9] whose skilful treatment of 'Pretty Polly' has led to such happy results for Major Loder. If one can judge by looks, these yearlings promise well for the future success of both trainer and owner, and I sincerely hope that I have had the honour to photograph the future winner of the Derby and Oaks for 1907.
After a very welcome lunch Major Loder showed me some beautiful paintings of various equine celebrities, past and present, and then Mr. Johnson kindly gave me valuable assistance in writing these notes, which I fear give only an inadequate description of this model stud farm.
---
Notes:


Major Eustace Loder (1867-1914): Known as 'Lucky Loder' because of his success on the Turf particularly with the horses 'Pretty Polly' and 'Spearmint'

Eyrefield House is one of Ireland's most famous thoroughbred breeding and racing establishments. It is located at The Curragh, which is 35 miles from Dublin city centre and is the heartland of Ireland's renowned bloodstock industry. The current owner is Sir Edmund Loder who inherited Eyrefield Stud in 1968 from his uncle, Lt-Col. Giles Harold Loder, who in turn had inherited it from his uncle, Major Eustace 'Lucky' Loder, the first member of the family to own the stud.

Henry Eyre Linde (1835 – 1897) was a famous trainer of steeplechasers and won many races in Ireland and abroad. The Empress Elizabeth of Austria came to Dublin in February 1879, on the City of Dublin Steam Packet Company's ship 'Shamrock' from Holyhead. Cheering crowds gathered as her train passed through Clonsilla, Lucan, Leixlip and Maynooth. At Kilcock a red carpet was rolled out and Austrian flags flown. Elizabeth was a keen huntswoman and brought twelve hunters with her. People came out in droves on foot and on horseback to see her, and every ditch and hedge she jumped was crowded with spectators. The locals were impressed by her lack of ostentation and her skill as a horsewoman. Henry Linde had already been presented to the Empress when she hunted with the Kildare Hunt and he had invited her to visit his stables, so on the last day of her Irish visit she went by train to the stables and inspected all his horses with her professional eye. One she declared to be: "too good" and Henry Linde renamed him "Too Good"; he was to win the Paris Grand Steeplechase in 1883 and came 2nd in the English Grand National in 1886. (summary from Irish History Magazine)
The Grand Steeple-Chase de Paris is a Group 1 steeplechase in France which is open to horses aged five years or older. It is run at Auteuil over a distance of 6,000 metres, and there are twenty-three fences to be jumped.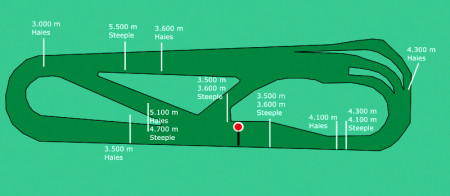 Wikimedia Commons






Laveno: Thoroughbred bay stallion born in 1892







Hands: 'Hand' is a unit of measure equal to 4 inches, used to measure the height of a horse from the ground, just beside and behind a front foreleg to the top of the withers or fifth vertebrae. The number of whole 'hands' is followed by a dot, then the remaining height is shown in inches. ie 14.3H







Curragh: The Curragh in County Kildare is mentioned in the earliest Irish manuscripts as a meeting place of the Celtic Kings where much sporting activity, including horse racing, took place. The first official racing to take place at the Curragh was in 1741. It is a right-handed horseshoe shaped course with a circuit of two miles (3.2 km), no sharp bends and a straight 'run in' of three furlongs uphill. (3 furlongs = 603 meters or 660 yards)






Jaw lock: Possibly equine tetanus caused by bacteria found in soil.







Pretty Polly: (1901 to 1931) was an outstanding British bred thoroughbred racehorse and an excellent broodmare. During her career she won twenty-two races and was twice second. In stakes she won prize money of £37,295 pounds. As the average weekly wage for skilled labour in 1910 was four pounds and eleven shillings (£4.55 approx) this would represent 157 years salary.
She won the Saint Leger in September 1904. Her jockey was Willie Lane, her owner Eustace Loder, and her trainer Peter Gilpin. The Saint Leger Stakes is a Group 1 flat horse race for 3 year-old thoroughbred colts and fillies. It is run over a distance of 1 mile 6 furlongs and 132 yards (2,937 metres) at Doncaster Racecourse (England). It takes place yearly, in September. First held in 1776, it is known as 'the oldest classic turf race.'
The round course at Doncaster is a left-handed, galloping, flat track, with the winning post at the tapered end. It is the only course in the UK that starts and ends the flat racing season on turf.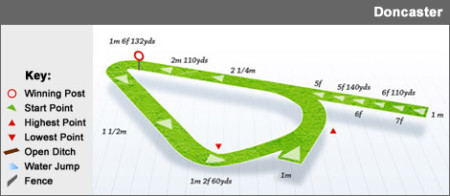 RacingSight.com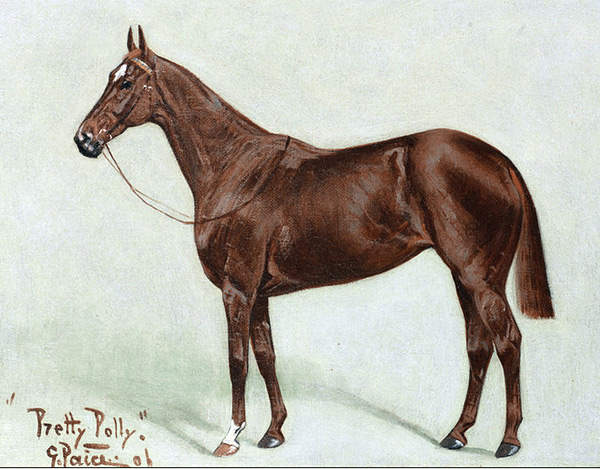 PRETTY POLLY by GEORGE PAICE 1906
'Pretty Polly' even had a poem written about her:
'Of all the mares that are so great
There's none like 'Pretty Polly'
The darling of the tipsters heart
She makes the racing jolly
There is no grand dame in the land
So sweet as 'Pretty Polly'
And if she's beat below the stand
What price her melancholy.' – anon
The book 'Pretty Polly the History of her Career on the Turf' by Joscelyne Lechmere, published in 1907 and now part of the John A. Seaverns Equine Collection , has the following dedication:
"to Major Eustace Loder the fortunate breeder and owner of the mare of all the centuries"
The book has been digitised, complete with illustrations, and is available to read online or to download as a pdf file at: Pretty Polly







Peter Valentine Purcell Gilpin, (1858 – 1928) was a trainer of champions. In addition to the mare 'Pretty Polly' and 'Spearmint', winner of the Derby, he prepared 'Comrade', a colt who had cost only 25 guineas, to win the Grand Prix de Paris and the first running of the Arc de Triomphe.







*
A 'filly' is a young female horse between the age of 2 and 4 years – too young to be called a mare.
A 'colt' is a young male horse between the age of 2 and 4 years.
A 'bay colt' has a reddish-brown colour.
A 'foal' is a horse of either sex less than one year of age.
A 'yearling' is a horse of either sex between the ages of one and two.
An adult male horse is called either a 'stallion' or a 'horse'.
A gelding is a castrated horse.

---