comad January 25th, 2016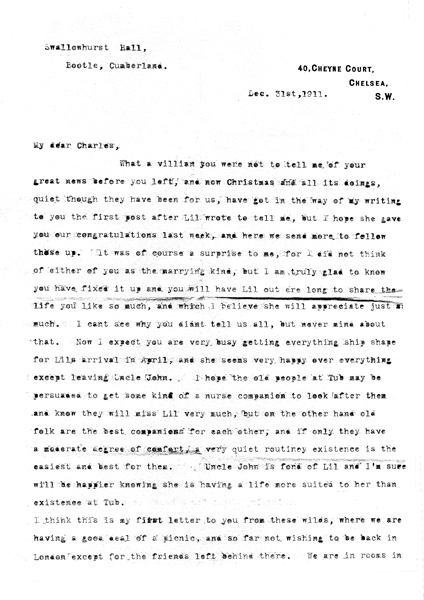 Swallowhurst Hall,
Bootle, Cumberland.
31st December 1911
My dear Charles,
What a villian you were not to tell me of your great news before you left, and now Christmas and all its doings, quiet though they have been for us, have got in the way of my writing to you the first post after Lil wrote to tell me, but I hope she gave you our congratulations last week, and here we send more to follow these up.
Of course it was a surprise to me, for I did not think of either of you as the marrying kind, but I am truly glad to know you have fixed it up and you will have Lil out ere long to share the life you like so much, and which I believe she will appreciate just as much.
I can't see why you didn't tell us all, but never mind about that. Now I expect you are very busy getting everything ship shape for Lils arrival in April, and she seems very happy over everything, except leaving uncle John. I hope the old people at Tub may be persuaded to get some kind of nurse companion to look after them, and I know they will miss Lil very much, but on the other hand old folk are the best companions for each other, and if only they have a moderate degree of comfort, a very quiet routiney existence is the easiest and best for them. Uncle John is fond of Lil and I'm sure will be happier knowing she is having a life more suited to her than existence at Tub.
I think this is my first letter to you from these wiles, where we are having a good deal of a picnic, and so far not wishing to be back in London except for the friends left behind there. We are in rooms in ///. It is in a sheltered corner below the hills, about two miles back from the coast, and is very isolated, so I expect you see more neighbours than we do now.
We have fallen into a regular routine of daily starting off with bread and cheese for luncheon to the /// on the sand hills, where we spend all day, and return at dark, either walking the five miles (8km) there and back, or bicycling round a couple of miles more according to the weather, which has been mostly either wet or very windy, but not cold as we expected. Several time there has been a snow cap on ScawFell ten miles (16km) off up the valley, but it has not lasted or reached down to this part.
Arthur is trying to push on the building and machinery work while the weather keeps open, so we did not get away for Christmas and had just the Sunday and Monday without going down to the sand hills, beginning again on boxing Day.
The people about here seem very nice and friendly, and the workmen are excellent. They hope to have the building and fixing finished by April and after that the experimental work will be very interesting. We hear most wonderful accounts from the people round as to what is going to be done. Damaging all the crops for ten miles round by the fumes, was one /// that reached us. As the experimental station is within half a mile of /// big gun testing place, we really hope the explosions will sound quite mild after the noise of a 13.5 inch gun (343mm) and no one will notice the /// much.
We are looking about for a house to move into in the Spring but nothing has turned up yet, and meantime we shall be staying on here, and in any case this address will always find us in the /// so I hope you will be writing soon.
Bless you, I am glad for you.
Yours affectionately,
Kitty
____________________________